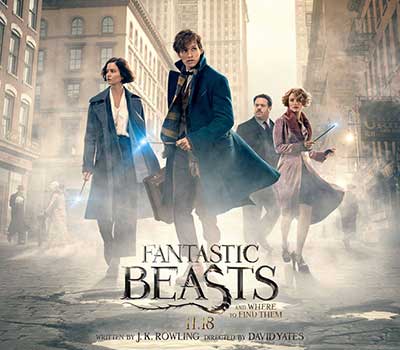 NOVEMBER 2016: On November 19th, the new magical J.K. Rowlings movie, FANTASTIC BEASTS, will be in theaters, and Bridge the Gap North MS will host another Sensory Movie Showing so you and your family can enjoy it in a lights-raised/volume-lowered event.

Theater Location: Malco Tupelo Commons (Behind Chili's)
Ticket Prices: Contact BRIDGE for pricing
Date: Nov. 19, 2016, Saturday at 9:30 a.m.

These sensory-friendly events allow people of all ages to enjoy their favorites movies in a comfortable and welcoming environment. The lights are raised a bit, and the volume is lowered which enables everyone to manage the theater environment more smoothly.

MOVEMENT: When you attend a sensory movie event, we ask that you understand everyone has their own methods of managing new situations, so be mindful of how that affects you and your family. Some may require movement while watching a film, and others may not. Both choices are welcome! This is the acceptance that BRIDGE the Gap supports, and we invite you to relax and welcome it as well.

SERVICE DOGS: Service dogs often accompany children/people with sensory needs, so we ask that you check with their owner before you pet or try to play with them. They are trained specifically for that individual, and we want to respect their purpose.

FRAGRANCE: Fragrance can also be a sensory issue, so please limit perfumes and other fragrant items.

SNACKS: The ticket prices do not include concessions, but you are welcome to purchase whatever the theater offers, or you can bring your own snacks if your child/or you are on a specific food plan.

We hope you have an amazing and enjoyable time. If you are in the Corinth area, Reconnect 4 Autism also hosts Sensory Movie Showings, and we invite you to attend if their location is more convenient. North Mississippi is becoming more aware of sensory-friendly needs, and we are excited about BRIDGE the Gap North MS being a part!